The member benefits just got better at The Coro Club!
Introducing the NEW LOYALTY REWARDS PROGRAM!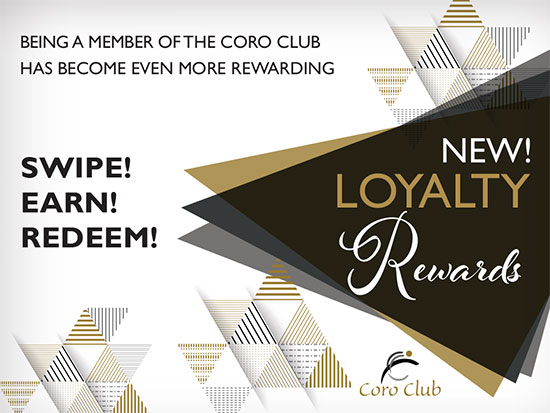 SWIPE!
Swipe your card when you visit, dine or drink at the Coro Club.
EARN!
Earn loyalty reward points every time you visit the club, receive bonus points,
birthday points, plus there's loads of others ways to earn points. Read more here
REDEEM!
Redeem your points for generous discounts in the bistro & bar, purchase gift
cards, as well as access to other exclusive member only benefits & rewards! Click here to view rewards. 
It's our way of saying thank you!
FAQ's
How do I earn points?
1 point = $1 spend
◊ Swipe your card at the kiosk upon entry
◊ Swipe your card when purchasing food or beverages
◊ Insert your card when playing gaming machines
◊ Earn points on functions and events
◊ Earn bonus points with special members promotions
How can I check which level i am in?
Swipe your card at the kiosk, insert your card into a gaming machine or ask at reception.
How can I move up a level?
Each month members who qualify for a higher tier are moved up to their new level automatically
How can I move down a level?
Every 6 months members who no longer qualify fortheir current level will be moved down to the appropriate level automatically.
What happens to my level when I spend my
reward points?
Using your points does not affect your tier level
How can I earn birthday rewards?
Visit the club during your birthday month, swipe your card via the kiosk and your birthday rewards will be automatically added to your points balance.
How can I earn visitation points?
Simply visit the club and remember to swipe your card via the kiosk upon entry.
How can I spend my points?
You can use your point to pay for purchases within our club and take advantage of generous discounts when paying with points.  Gift cards and other rewards are also available.
Will my points expire?
Yes, rewards points for Gold, Silver and Bronze levels will expire on the 30th June each year.
Terms and conditions here
Think! About your choices. Call Gambling Help 1800 858 858 or www.gamblinghelp.nsw.gov.au
Is gambling a problem for you? Counselling and Self-Exclusion may help. ClubSAFE Counselling Service 1800 99 77 66. 24hrs, 7days