Discover what's on at The Coro
Please refer to Coro Club's Facebook Page regarding any COVID Entry Guidelines
Melbourne Cup Day
Join us for a great day!
Sweeps
Cocktails
Prizes for best dressed
Lucky door prize
Bistro Specials and Share Platters will be available.
ALFRESCO area open
(Bistro bookings essential)
Share platters are available for main bar as well. Pre-order preferred.
Full tab facilities available from 7am
Vouchers for losing tickets
Win $500 - buy any beverage to enter
MELBOURNE CUP BINGO - from 10am
Phone: 69621180
MELBOURNE CUP CALCUTTA
Drawn Sunday 31st October 2021, 4pm at the club.
Tickets available to purchase from club reception or online.
Draws will take place in the main bar - not online.
CORO CLUB AGM
NOTICE IS HEREBY GIVEN FOR THE ANNUAL GENERAL MEETING FOR THE CORO CLUB PTY LTD
When: Sunday 7th November 2021
Nominations for Board of Directors are now open and close Friday 22nd October 2021 at 5pm.
ONLINE RAFFLE
View our facebook page for this week's list of prizes!
HOW TO BUY TICKETS
1️: From Club Reception
2: Online 24/7

Drawn every Friday at 7pm and streamed live via our facebook page. You do not need to be in attendance to win.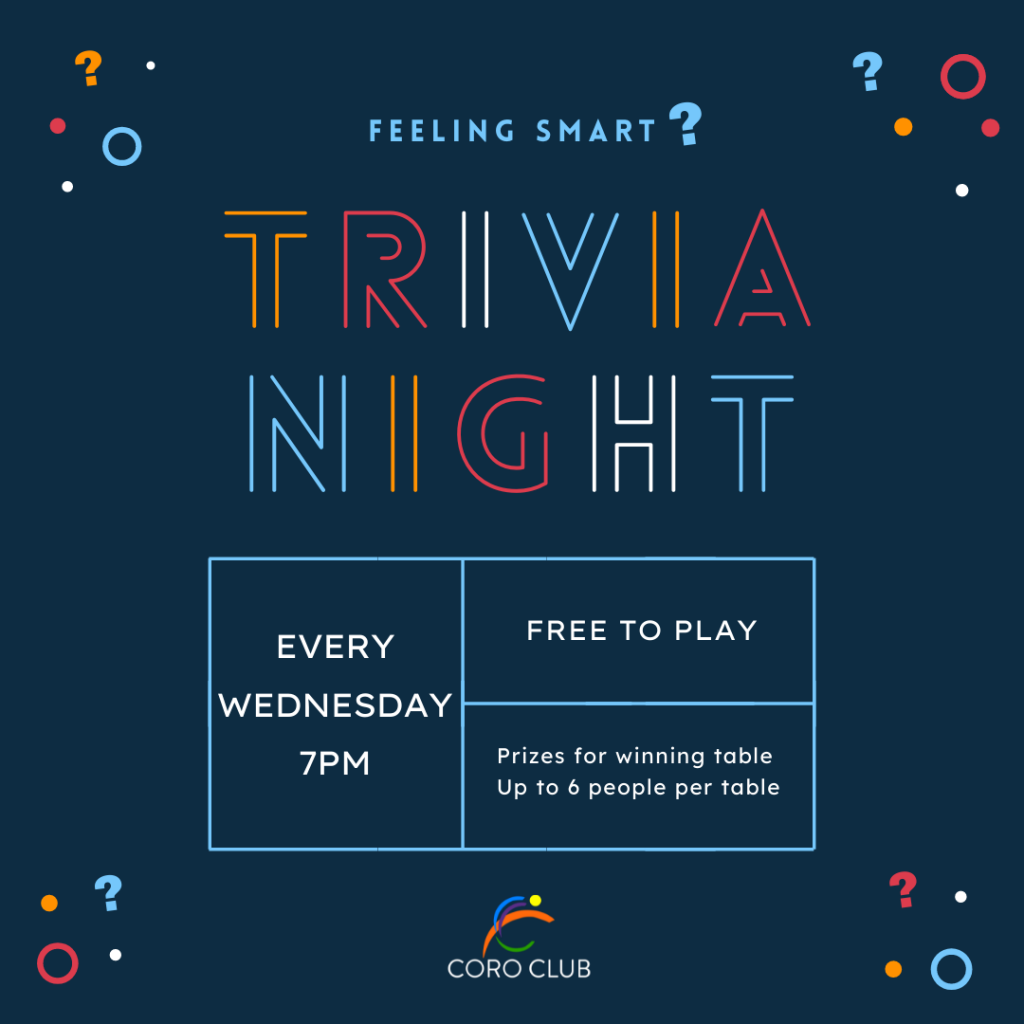 TRIVIA NIGHT
Every Wednesday 7pm
Consider yourself a smarty pants?
Grab a group of your most brainiest friends & family for a night of laughs!
It's FREE to play.
Great prizes for winning table.
Just turn up, make your own table (of up to 6) or we can find you a group
Get your thinking cap on and show your ability to recall otherwise totally useless information!
MEAT RAFFLES
Thursday: Tickets on sale from 7.30pm, drawn at 8pm
Saturday: .Tickets on sale from 6pm. Drawn 6.30pm.
VIP LOUNGE OPEN DAILY
The Coro Club's VIP Lounge is open 10am til 3am DAILY. Yes everyday from 10am til 3am.
✔️easy and private access via the new side entrance for members only and after hours access
✔️park close
✔️swipe your members card to gain entry
✔️drinks service available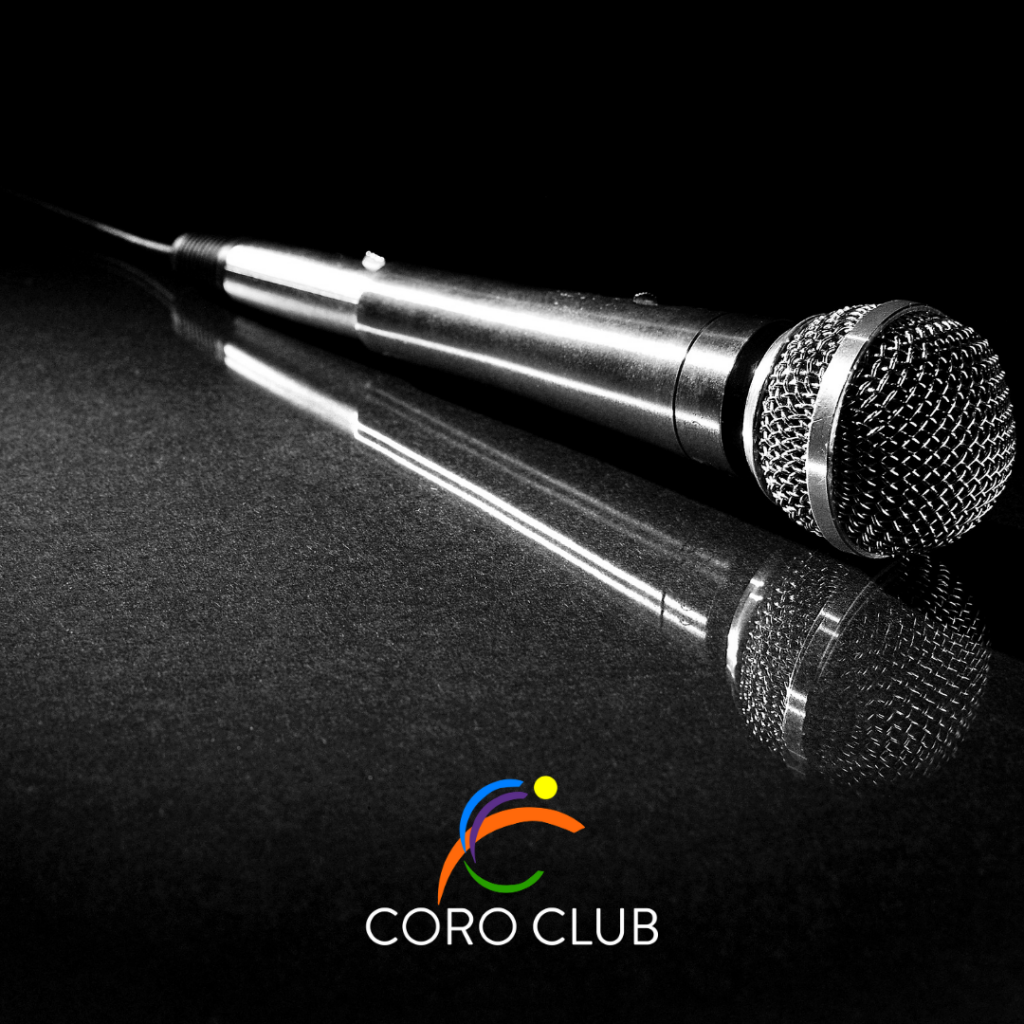 KARAOKE

-(on hold)
Our famous Karaoke is on every Thursday Night from 8pm with Chris Sutton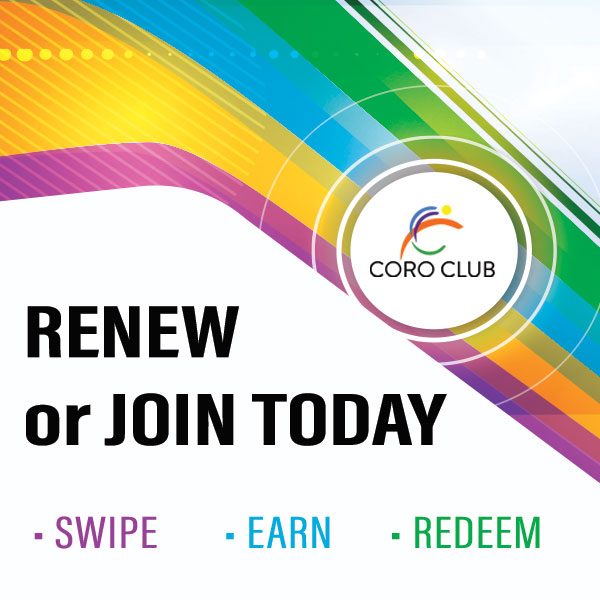 MEMBERSHIP
Being a member is so rewarding! RENEW NOW!
SWIPE! EARN! REDEEM!
Learn more about Loyalty Rewards and Membership HERE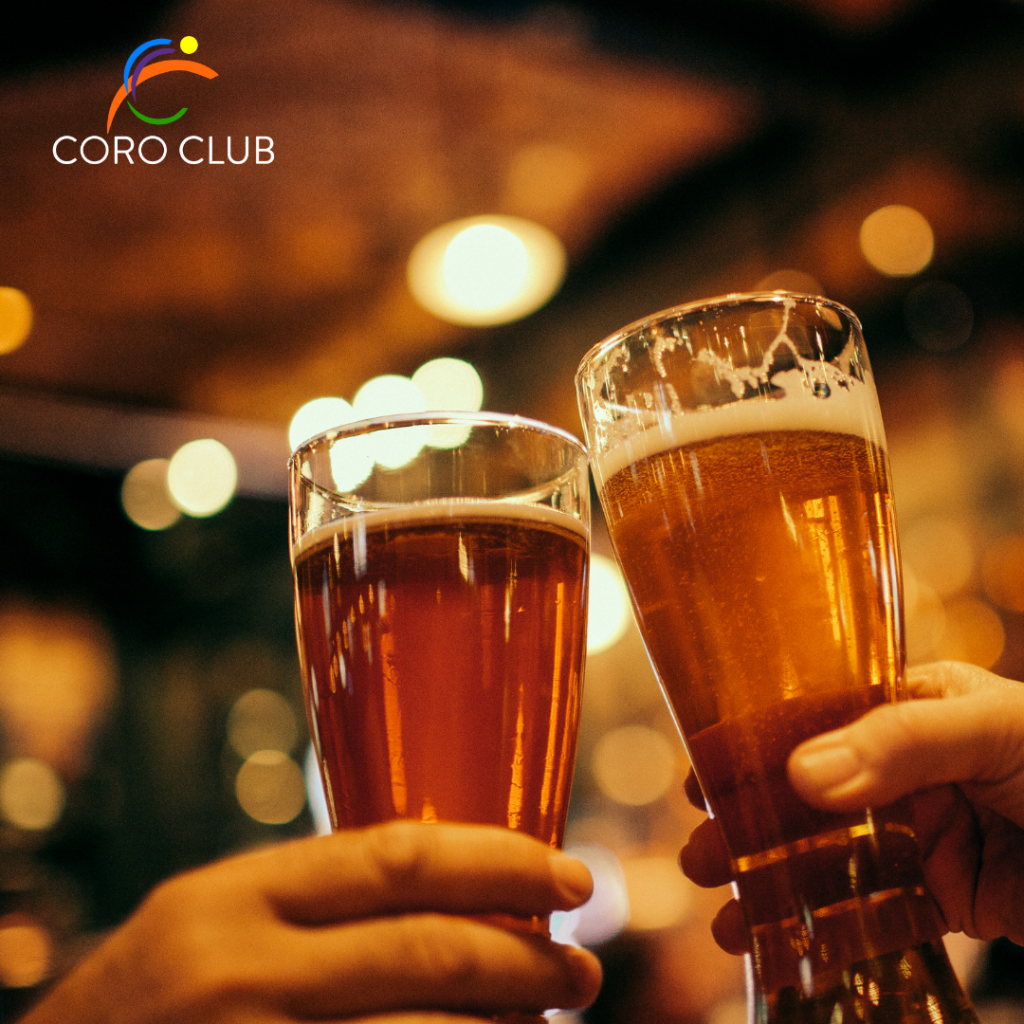 DAILY HAPPY HOUR
It's Happy Hour every day of the week!
Monday 4.30pm - 5.30pm
Tuesday 4.30pm - 5.30pm
Wednesday 4.30pm - 5.30pm
Thursday 4.30pm - 6.30pm
Friday 4.30pm - 5.30pm
Saturday 4.30pm - 6.30pm
Sunday 4.30pm - 5.30pm
LOCAL BADGE DRAW
Every Saturday from 4pm.
Jackpots each week by $250 until $2000 is reached, then continually drawn til claimed!
RIVERINA SUPER DRAW
Drawn every Thursday 7pm-9pm. Jackpots each week by $2,600.
Draw will take place between 7:00 pm & 9:00pm each Thursday, where the winning club will be drawn. The winning club will be called and the members draw will then take place.
BINGO
-Monday 10.30am
-Tuesday 10.30am + 6.30pm
-Friday 10.30am
Purchase the Fast 5 or Super 8 to receive a FREE Cappucino !
PLAY TO WIN
Insert your membership card from 2pm every Saturday to receive vouchers for the chance to win meat packs, fuel & club vouchers!
Drawn from 4.30pm
POKER
APL Poker Tuesday 7.30pm & 2pm Saturday
Tuesdays 7.30pm. Buy in $10 (10,000 chips)
2 x $10 buy in allowed - 1st rebuy 15,000 chips, 2nd rebuy or add 25,000 chips. TUESDAY NIGHT'S ON HOLD ONLY
Saturdays 2pm. Buy in $40 Freeze Out + $10 Bounties
Club Contributions to Pot $200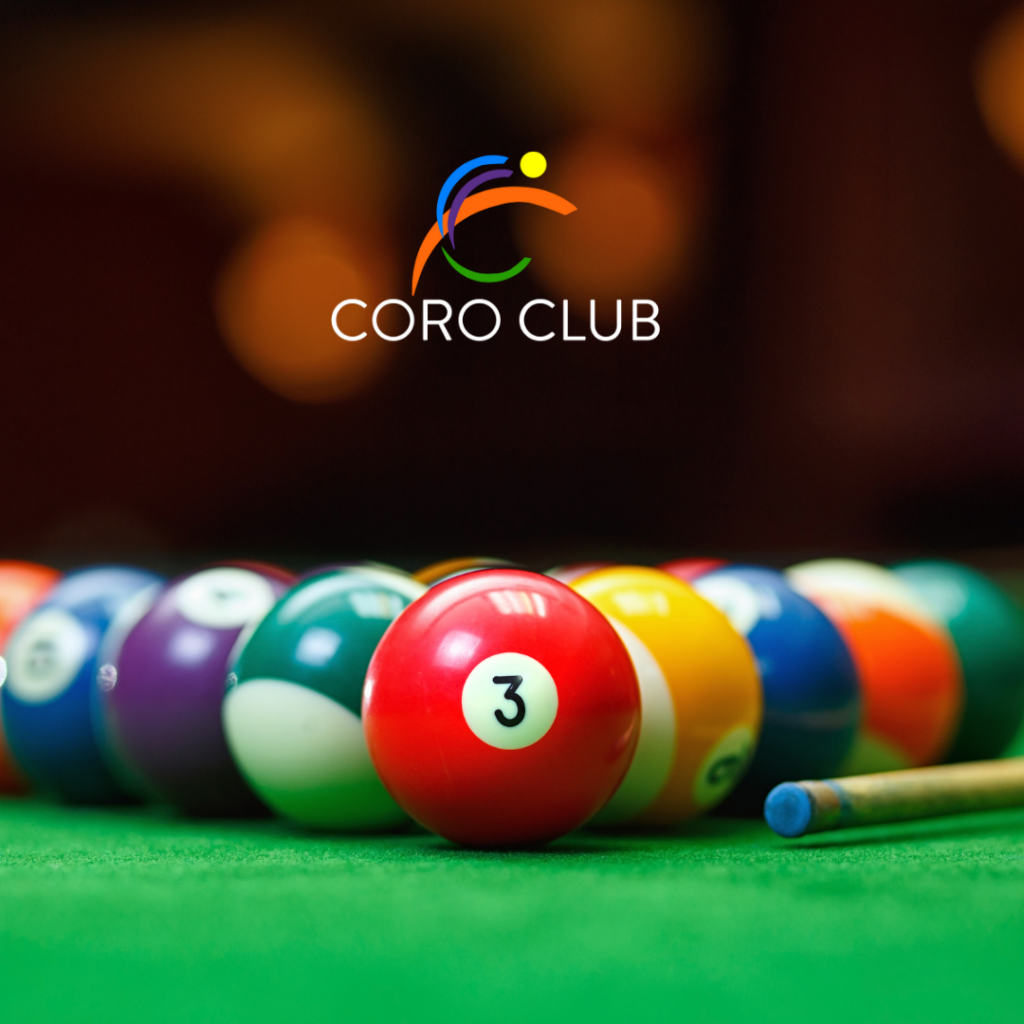 POOL
Enjoy FREE Pool Monday - Friday 10am-4pm
Pool Comp -Every Sunday at 12pm (ON HOLD DUE TO COVID RESTRICTIONS
COURTESY BUS
FREE for members! Our courtesy bus runs Thursday, Friday and Saturday from 3pm. Phone 0499 972 676 to arrange pick up.
ON HOLD DUE TO COVID RESTRICTIONS
WHAT'S ON AT THE CORO
For the latest updates to Club Activities, please keep an eye on our facebook page.
Monday
Bingo 10.30am
Happy Hour 4.30pm
VIP Room open daily til 3am
FREE Pool 10am-4pm
Tuesday
Bingo 10.30am + 6.30pm
Happy Hour 4.30pm
Poker 7.30pm
VIP Room open daily til 3am
FREE Pool 10am-4pm
Wednesday
Happy Hour 4.30pm
Trivia Night 7pm
VIP Room open daily til 3am
FREE Pool 10am-4pm
Thursday
Happy Hour 4.30pm
Meat Raffle 7pm
VIP Room open daily til 3am
FREE Pool 10am-4pm
Friday
Happy Hour 4.30pm
Bingo 10.30am
Club Raffle drawn at 7pm
VIP Room open daily til 3am
FREE Pool 10am-4pm
Saturday
Poker 2pm
Badge Draw from 4pm
Play to Win : Drawn from 4.30pm
Happy Hour 4.30pm
Meat Raffle from 6pm
VIP Room open daily til 3am
Sunday
Happy Hour 4.30pm
VIP Room open daily til 3am
COVID ENTRY GUIDELINES
*subject to change
In line with NSW Public Health orders the following restrictions will be in place within our venue until advised otherwise
Sign in using the Services NSW QR Check in
Masks are mandatory except while eating or drinking
Maintain Social Distancing of 1.5m at all times
Sanitise upon arrival
Drinking while standing not permitted
Patron capacity will revert to the 1 person per 4 square metre rule indoors and 1 person per 2 square metre rule outdoors.
Singing and dancing is not permitted.
Denied entry to anyone who has been in a known hotspot area.
Pease respect and follow instructions from our staff
Please do not enter the club if you are unwell or displaying any flu like symptoms
Rest assured you are COVID SAFE at the Coro. Your safety is our priority and we've increased cleaning procedures.
Thanks for your co-operation as we adapt to these changes.