The COVID-19 situation continues to evolve rapidly and rest assured you are COVID SAFE at the Coro. Your safety is our priority.
As we transition to a new way of operating the club, we ask patron's to be patient and understanding of our staff during this time. The Club has clear social distancing and reminder signs displayed. We ask that you please adhere to our safety measures and follow these guidelines for the health and safety of all.
Though there may be some changes to what we can offer, we are working hard to make it easy for everyone to enjoy the club once again.
Upon arrival at the club, it is a requirement that all patrons
1: Digitally sign in
2: Use sanitiser
3: Remain seated
4: Physical Distancing of 1.5m
Please do not enter the club if you are unwell or displaying any flu like symptoms or if you have visited a known 'hot spot' or Victoria. The Coro Club endorse the COVID Safe App to download.
The Coro Club have increased Health & Safety Measures
We encourage all persons including staff to practice good hygiene at all times;
Sanitise your hands regularly. Staff are asked to sanitise between patrons sales.

Cover your nose and mouth when coughing and sneezing with a tissue or flexed elbow. Immediately dispose of the used tissue safely and sanitise hands.

Avoid physical contact when greeting such as the shaking of hands or high fives.

Avoid touching your eyes, nose and mouth.
Increased cleaning procedures include;
Regular sanitisation of high contact/touch point areas-

Bars, doors, tables, ATM, Foyer Kiosk, EBT, Pokies, & Reception sign-in terminal
Ensure supply of hand sanitiser stations are kept full

Increased signage within the venue regarding social distancing, rules of machine play and other key area's

Increased hand sanitiser stations throughout the club in effort to cover entry, exit and touch points.

Staff are discouraged to handle members phones or loyalty cards
Our trading hours are as per normal and our Bistro is once again open Tuesday to Sunday for Lunch & Dinner. Bookings are preferred.
All the things you love about the Coro are almost back!
We'll keep you updated through our facebook page and app.
Please read our full COVID Saftey Measures HERE
FRIDAY NIGHT Club & ONLINE Raffle
WIN PRIZES IN OUR WEEKLY ONLINE & INHOUSE RAFFLE
Draws will take place at 7pm every Friday at the club and will be streamed live via facebook.
HOW TO BUY TICKETS
1: From Reception throughout the week
2: Online 24/7
3: In-venue on Friday nights from 5.30pm.
You do not need to be in attendance to win.
MEAT RAFFLES
Thursday: Coro Cougars Cricket Club Meat Raffle.Tickets on sale from 7pm, drawn at 7.30pm
Saturday: Beyond Blue Meat Raffle.Tickets on sale from 6pm. Drawn 6.30pm.
MELBOURNE CUP CALCUTTA
Purchase tickets online or from club reception.
Tickets $1 each
Drawn Sunday 1st November, 4pm
MELBOURNE CUP DAY
Tuesday 3rd November 2020
Full tab facilities available from 7am
Sweeps | Cocktails
Bistro open (bookings essential)
Outdoor Area - Cabana's and outdoor bar open
Watch the race live on multiple big screen both indoors and outdoors
Bistro Specials
- Antipasto Platter with fresh bread (serves 2) $25
- Steak Roll with Chips $18
- Fish & Chips Basket $15
Full Menu also available
MELBOURNE CUP DAY BINGO
Join us for Melbourne Cup Day BINGO!
Tue November 3rd 10am
PRIZES TO BE WON FOR
-LOLLY JAR
-LAST NUMBER PRIZE
-BEST DRESSED & HAT
State of Origin
WIN PRIZES
Giveaways to be won. Purchase any beverage from 5pm each game night to enter the draw.
Drawn at half time.
BISTRO SPECIAL
Burger'n'Burger $20
Watch the game on multiple screens
Outdoor Area & Bar will be open
CHARITY BINGO
2020 Dates
2nd August 2020
13th September 2020
11th October 2020
1st November 2020
6th December 2020
Starts 10.30am
Morning Tea included
Game Prizes
Raffle Prizes
Donations gratefully accepted
Raising money for Griffith Community Carevan
VIP LOUNGE OPEN DAILY
The Coro Club's VIP Lounge is open 10am til 3am DAILY. Yes everyday from 10am til 3am.
✔️easy and private access via the new side entrance for members only and after hours access
✔️park close
✔️swipe your members card to gain entry
✔️drinks service available
✔️COVID Safe
Live Entertainment
Enjoy FREE & live entertainment in the main bar
Every Friday Night from 8pm
View upcoming artists HERE
ON HOLD
Karaoke
Our famous Karaoke is on every Thursday Night from 8pm with Chris Sutton
MEMBERSHIP - LOYALTY REWARDS
Being a member is so rewarding! RENEW NOW!
SWIPE!
Swipe your card when you visit, dine or drink at the Coro Club.
EARN!
Earn loyalty reward points when you visit the club, receive bonus points,
birthday points, plus there's loads of others ways to earn points. Read more here
REDEEM!
Redeem your points for generous discounts in the bistro & bar, purchase gift
cards, as well as access to other exclusive member only benefits & rewards! Click here to view rewards.
Learn more about Loyalty Rewards and Membership HERE
Happy Hour - NEW TIMES
It's Happy Hour every day of the week!
Monday 4.30pm - 5.30pm
Tuesday 4.30pm - 5.30pm
Wednesday 4.30pm - 5.30pm
Thursday 4.30pm - 6.30pm
Friday 4.30pm - 5.30pm
Saturday 4.30pm - 6.30pm
Sunday 4.30pm - 5.30pm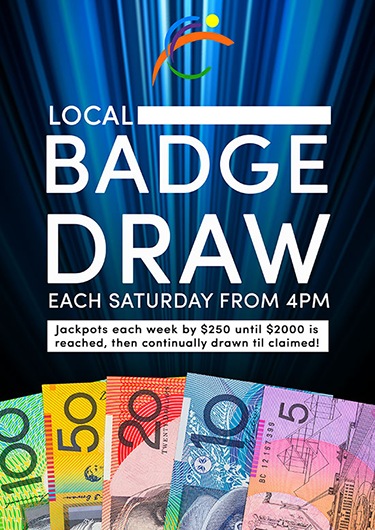 Local Badge Draw
Every Saturday from 4pm.
Jackpots each week by $250 until $2000 is reached, then continually drawn til claimed!
Riverina Members Badge Draw
Every Thursday 7pm-9pm. Jackpots each week by $2,400
ON HOLD
Bingo
-Monday 10.30am
-Tuesday 10.30am + 6.30pm
-Friday 10.30am
Purchase the Fast 5 or Super 8 to receive a FREE Cappucino !
PLAY TO WIN
Insert your membership card from 2pm every Saturday
to receive vouchers for the chance to win meat packs, fuel & club vouchers!
Drawn from 4.30pm
Poker
APL Poker Tuesday 7.30pm & 2pm Saturday
Tuesdays 7.30pm. Buy in $10 (10,000 chips)
2 x $10 buy in allowed - 1st rebuy 15,000 chips, 2nd rebuy or add 25,000 chips
Saturdays 2pm. Buy in $40 Freeze Out + $10 Bounties
Club Contributions to Pot $200
Pool
Enjoy FREE Pool Monday - Friday 10am-4pm
Sunday Pool Comp 12pm is currently still on hold
Daily What's on
Monday
Happy Hour: 4.30pm-5.30pm
Bingo: Monday 10.30am
Tuesday
Happy Hour: 4.30pm-5.30pm
Bingo: Tuesday 10.30am + 6.30pm
APL Poker Tuesday 7.30pm (on hold)
Wednesday
Happy Hour: 4.30pm-5.30pm
Thursday
Happy Hour: 4.30pm-6.30pm
Riverina Members Badge Draw from 7pm-9pm. Jackpots each week by $2,400 (on hold during COVID)
Cougars Cricket Meat Raffle. Tickets on sale from 7pm, drawn at 7.30pm
Karaoke from 8pm (on hold during COVID)
Friday
Happy Hour: 4.30pm-5.30pm
Club Raffle. Tickets on sale from 5.30pm, drawn at 7pm.
Entertainment from 8pm (on hold during COVID. Please keep an eye on our facebook page for updates)
Bingo: 10.30am
Saturday
APL Poker: 2pm (on hold)
Happy Hour: 4.30pm-6.30pm
Play to Win : Drawn from 4.30pm
Local Badge Draw: Drawn from 4pm.
Beyond Blue Meat Raffle: Tickets on sale from 6pm, drawn 6.30pm
Sunday
Happy Hour: 4.30pm-5.30pm
Pool Comp: 12pm Sunday