Fathers Day at the Coro!
Sunday 1st September!
-Massive Father's Day Raffle drawn at 2pm
- All Dad's receive a free schooner with any main meal purchased
-Great Bistro Specials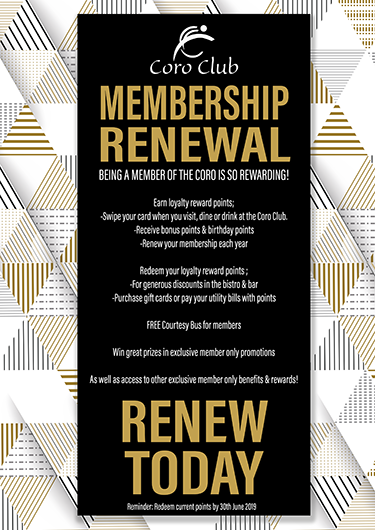 Live Entertainment
Enjoy FREE & live entertainment in the main bar
Every Friday Night from 8pm
Karaoke
Our famous Karaoke is on every Thursday Night from 8pm with Chris Sutton
View upcoming artists HERE
Membership Renewal
It's time to renew your membership!  There's so many great many great benefits. Discover them all here!
Win a Stack of Cash
Win a share of $7,000
STARTS 1ST JULY 2019
4 ways to enter
1: Swipe your card upon entry
2: Purchase food or beverages
3: Win vouchers randomly
4: Gain a bonus entry when you renew your membership or join
Drawn 27th September 2019, 7pm
View T& C's at Club Reception LTPS/19/33499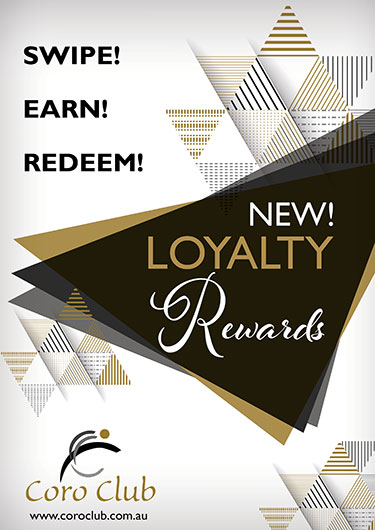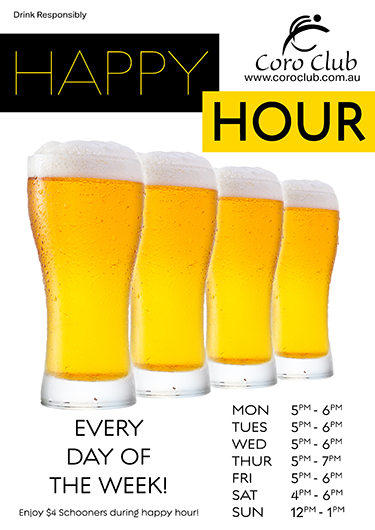 NEW! LOYALTY REWARDS
SWIPE!
Swipe your card when you visit, dine or drink at the Coro Club.
EARN!
Earn loyalty reward points when you visit the club, receive bonus points,
birthday points, plus there's loads of others ways to earn points. Read more here
REDEEM!
Redeem your points for generous discounts in the bistro & bar, purchase gift
cards, as well as access to other exclusive member only benefits & rewards! Click here to view rewards. 
Learn more about Loyalty Rewards HERE
Join The Little Coro Kids Club
The kids will love the benefits of being a member! 
-Receive your very own membership card
-50% off Kids Meals
-Eat for FREE on Friday Nights * conditions apply
-Receive a FREE Kids Activity Pack with every Kids Meal purchased
-Swipe your membership card to win prizes!
More details HERE
Happy Hour
It's Happy Hour every day of the week!
Enjoy $4 schooners between these times
Monday 5pm-6pm
Tuesday 5pm-6pm
Wednesday 5pm-6pm
Thursday 5pm-7pm
Friday 5pm-6pm
Saturday 4pm-6pm
Sunday 12pm-1pm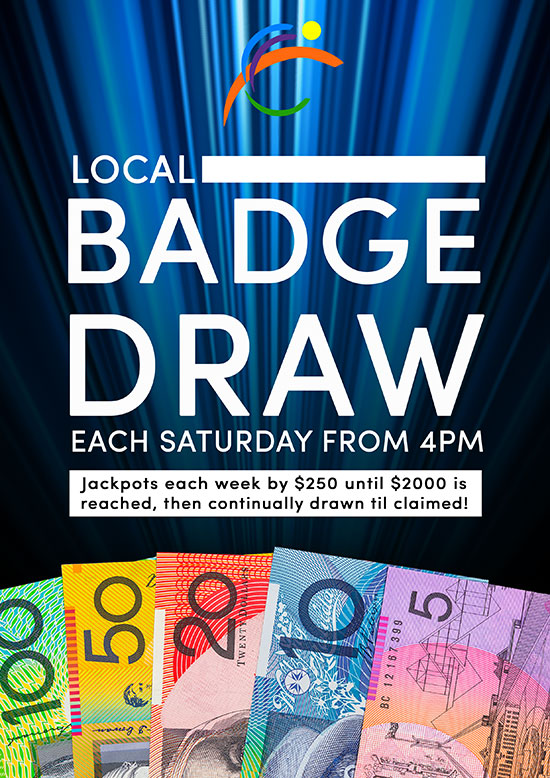 Local Badge Draw
Every Saturday from 4pm.
Jackpots each week by $250 until $2000 is reached, then continually drawn til claimed!
Club Raffles
Thursday: Coro Cougars Cricket Club Meat Raffle 7.30pm. Tickets on sale from 7pm
Friday: Club Raffle 7pm. Tickets on sale from 5.30pm. Win great prizes, meat trays + spin the wheel for cash
Saturday: Cystic Fibrosis Meat Raffle 6.30pm. Tickets on sale from 6pm
Riverina Members Badge Draw
Every Thursday 7pm-9pm. Jackpots each week by $2,400
Bingo
Monday 10.30am
Tuesday 10.30am + 6.30pm
Friday 10.30am + 1.30pm
Poker, Darts & Pool
Poker 2pm Saturday
Darts Wednesday
Pool 12pm Sunday 
Triple Points 
Earn Triple Bonus Points every Thursday from 6pm-9pm
---
Monday
Bingo - 10.30am
Happy Hour 5pm-6pm
Tuesday
Bingo - 10.30am & 6.30pm
Happy Hour 5pm-6pm
Wednesday
Social & Competition Darts from 6.30pm
Happy Hour 5pm-6pm
Thursday
Happy Hour 5 - 7pm
Members Badge Draw -7pm-9pm
Cougar Cricket Club Meat Raffles - 7.30pm, tickets on sale from 7pm
Triple Bonus Points - 6pm-9pm
Karaoke - 8pm
Friday
Bingo - 10.30am & 1.30pm
Happy Hour 5pm-6pm
Club Raffle - Drawn at 7pm. Tickets on sale from 5.30pm. 10 meat trays & 10 prizes + spin the Wheel of Cash!
Live Entertainment - 7.30pm
Saturday
NPL Poker - 2pm
Happy Hour - 4pm-6pm
Local Badge Draw - 4pm. Jackpots each week and when $2000 is reached, must be claimed
Grocery Grab - 3pm
Club Raffle - Cystic Fibrosis Meat Raffles - 6.30pm
Live Entertainment from 8pm
Sunday
Pool Comp from 12noon
Happy Hour 12pm-1pm