To Coro Club Members & Guests
The Coro Club are doing everything possible to ensure the health and safety of our patrons and staff and remains open with normal trading hours.
As you're aware, non-essential outdoor gatherings of 500 persons will not be permitted as well as all non-essential indoor gatherings of 100 people or more - defined as per enclosed area.
For you, our customers this means;
We have increased cleaning procedures and hygiene protocols – particularly in our high traffic areas such as gaming, bar and bistro. Hand sanitisers are available to ensure everyone feel comfortable to be in our club. Staff are instructed to wipe down religiously at every possible opportunity.
Our Bistro is following the strictest food safety handling procedures too.
We've had to make some changes to our promotions....HOWEVER…..WE ARE STILL OPEN FOR BUSINESS.
Our WEEKLY RAFFLES and ENTERTAINMENT and BINGO will still continue.
PLEASE, PLEASE support us so we can remain open to provide all our staff (who have families) an income, provide these musicians an income. This is their only source of income, for many of our staff.
We are very mindful of and doing everything we can to prevent the spread, plus we are adhering to all government laws and are constantly keeping up to date with all information filtering through.
We urge to you remain calm and the world must go on. Please support the club and know that you are in a safe environment.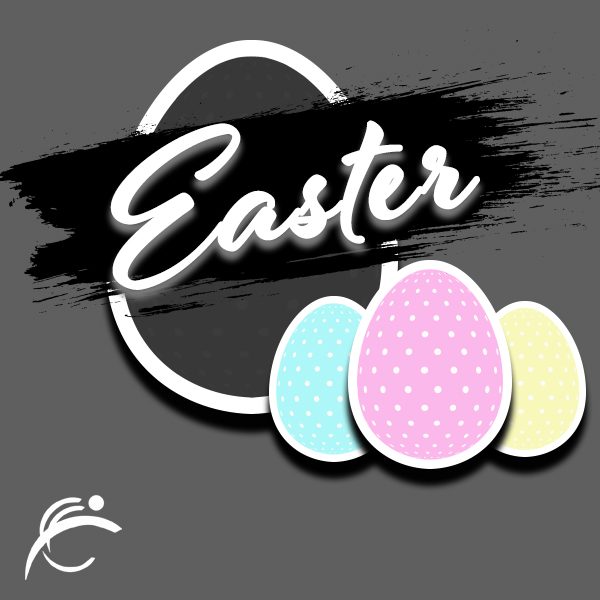 Easter
It's business as usual and our Easter Festivities are still going ahead at the Coro, just smaller crowds and cleaner than ever before!
We still need to give away our seafood trays we've ordered, so we'll be giving them away in our normal raffles.
We still have entertainment on Good Friday 10th April 2020 by Perfect Stranger and Easter Saturday 11th April 2020 with Crooked Crows both are from 8pm.
Not to mention our new Bistro 1802 is now open!
Note: Bistro will be closed on Easter Monday.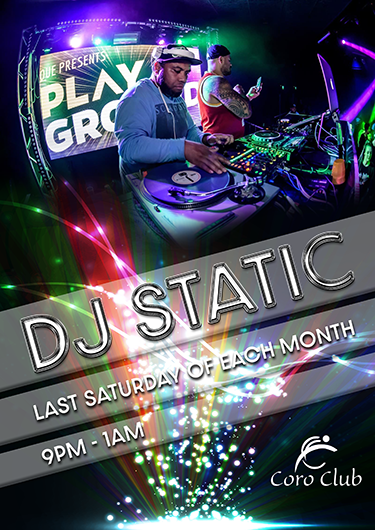 DJ STATIC
DJ Static will be spinning tunes on the last Saturday of each month at The Coro.
Dates: Saturday 29th February 2020, Saturday 28th March, Saturday 25th April, Saturday 30th May, Saturday 27th June, Saturday 25th July, Saturday 29th August, Saturday 26th September, Saturday 31st October, Saturday 28th November, Saturday 26th December
9pm-1am
$5 Basic Spirits & $4 Wines! 9pm-11pm only
PLUS we have a free courtesy bus to get you to the club AND take you home if you're a member! Phone 0499 972 676 to arrange pick up.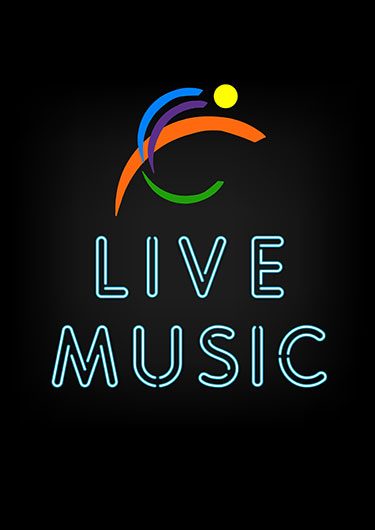 Live Entertainment
Enjoy FREE & live entertainment in the main bar
Every Friday Night from 8pm
View upcoming artists HERE
YES LIVE ENTERTAINMENT WILL STILL CONTINUE!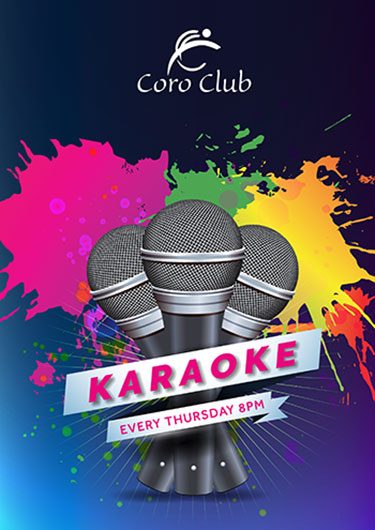 Karaoke
Our famous Karaoke is on every Thursday Night from 8pm with Chris Sutton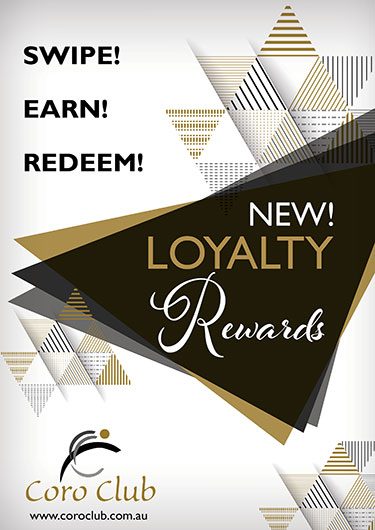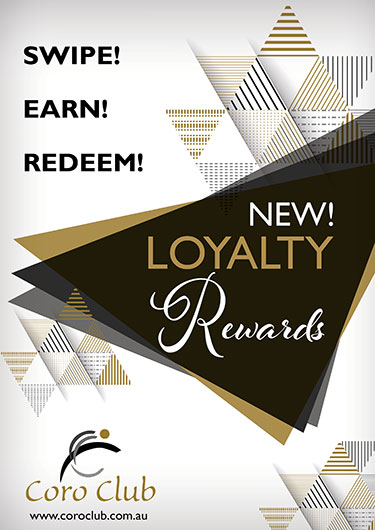 LOYALTY REWARDS
SWIPE!
Swipe your card when you visit, dine or drink at the Coro Club.
EARN!
Earn loyalty reward points when you visit the club, receive bonus points,
birthday points, plus there's loads of others ways to earn points. Read more here
REDEEM!
Redeem your points for generous discounts in the bistro & bar, purchase gift
cards, as well as access to other exclusive member only benefits & rewards! Click here to view rewards.
Learn more about Loyalty Rewards HERE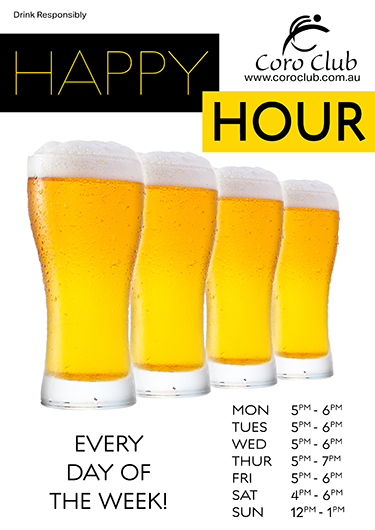 Happy Hour
It's Happy Hour every day of the week!
Monday 5pm-6pm
Tuesday 5pm-6pm
Wednesday 5pm-6pm
Thursday 5pm-7pm
Friday 5pm-6pm
Saturday 4pm-6pm
Sunday 12pm-1pm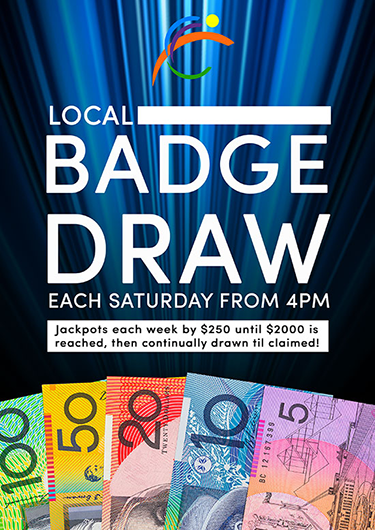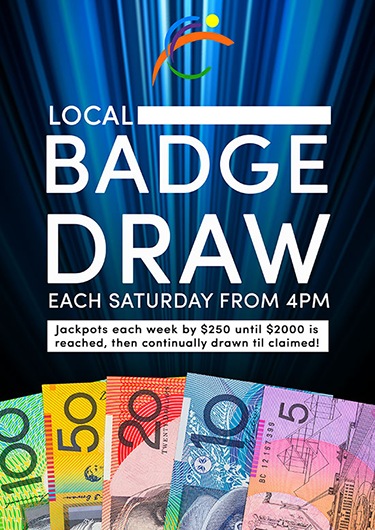 Local Badge Draw
Every Saturday from 4pm.
Jackpots each week by $250 until $2000 is reached, then continually drawn til claimed!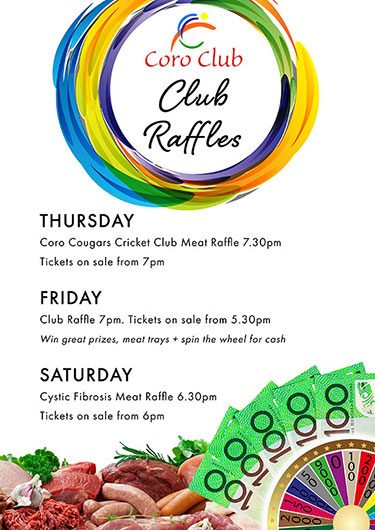 Club Raffles
Thursday: Coro Cougars Cricket Club Meat Raffle 7.30pm. Tickets on sale from 7pm
Friday: Club Raffle 7pm. Tickets on sale from 5.30pm. Win great prizes, meat trays + spin the wheel for cash
Saturday: Cystic Fibrosis Meat Raffle 6.30pm. Tickets on sale from 6pm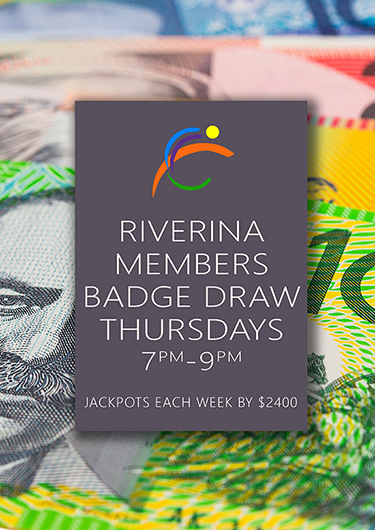 Riverina Members Badge Draw
Every Thursday 7pm-9pm. Jackpots each week by $2,400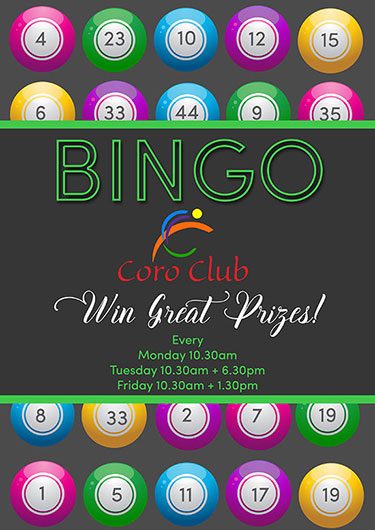 Bingo
Monday 10.30am
Tuesday 10.30am + 6.30pm
Friday 10.30am + 1.30pm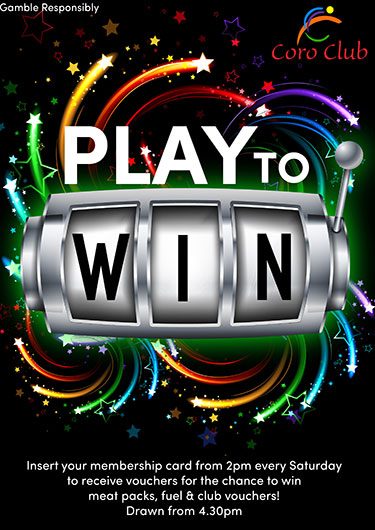 PLAY TO WIN
Insert your membership card from 2pm every Saturday
to receive vouchers for the chance to win meat packs, fuel & club vouchers!
Drawn from 4.30pm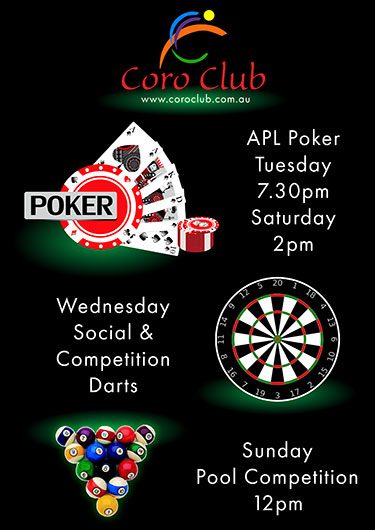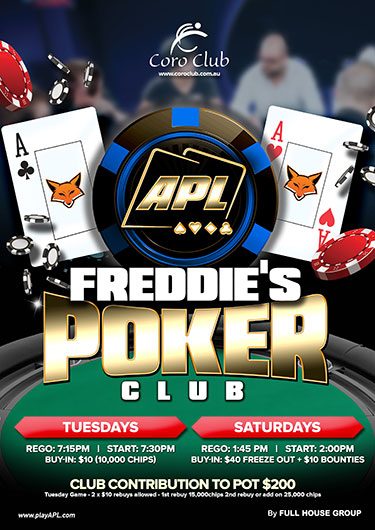 Poker, Darts & Pool
Darts Wednesday
Pool 12pm Sunday
APL Poker Tuesday 7.30pm & 2pm Saturday
Tuesdays 7.30pm. Buy in $10 (10,000 chips)
2 x $10 buy in allowed - 1st rebuy 15,000 chips, 2nd rebuy or add 25,000 chips

Saturdays 2pm. Buy in $40 Freeze Out + $10 Bounties

Club Contributions to Pot $200
Daily What's on
Monday
Happy Hour: Monday 5pm-6pm
Bingo: Monday 10.30am
Tuesday
Happy Hour: Tuesday 5pm-6pm
Bingo: Tuesday 10.30am + 6.30pm
APL Poker Tuesday 7.30pm
Wednesday
Happy Hour: Wednesday 5pm-6pm
Social & Competition Darts from 6.30pm
Thursday
Happy Hour: Thursday 5pm-7pm
Riverina Members Badge Draw from 7pm-9pm. Jackpots each week by $2,400
Club Raffle 7.30pm. Tickets on sale from 7pm
Karaoke from 8pm
Friday
Happy Hour: Friday 5pm-6pm
Club Raffle 7pm. Tickets on sale from 5.30pm. Win great prizes, meat trays + spin the wheel for cash
Entertainment from 8pm
Kids Eat for Free on Fridays if they're a 'little coro member'. Conditions apply
Bingo: Friday 10.30am + 1.30pm
Saturday
APL Poker - 2pm
Happy Hour - 4pm-6pm
Play to Win - Insert your membership card from 2pm every Saturday to receive vouchers for the chance to win meat packs, fuel & club vouchers! Drawn from 4.30pm
Local Badge Draw – drawn from 4pm. Jackpots each week and when $2000 is reached, must be claimed
Club Raffle - Drawn from 6.30pm. Tickets on sale from 6pm


Sunday
Happy Hour: Sunday 12pm-1pm
Pool Comp 12pm Sunday